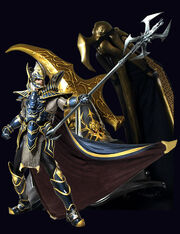 | | |
| --- | --- |
| Force Wave | Similar to the inherent skill of the Dark Lord (Force) but deals more damage and does a penetrating attack. |
| Earthquake | A destructive war stomp which causes tremendous damage and knocks opponents back. |
| Fireburst | Bursts out chains of fire which has an area effect. Most popular skill of a Dark Lord. |
| Increase Critical Damage | Enhances Critical Damage of the Dark Lord and his Partymates. |
| Electric Spark | Unleashes a powerful surge of electricity that takes down any enemies in its path. This is an area effect spell whose power is increased by the power of the Dark Lord's party. |
| Summon | Summons partymates of the Dark Lord to any location except Event maps. |
| Fire Scream | Unleashes waves of fire to damage enemies in front of the Dark Lord. |
| Birds | The Dark Lord calls a his dark birds to attack the enemies in front of him. |
Ad blocker interference detected!
Wikia is a free-to-use site that makes money from advertising. We have a modified experience for viewers using ad blockers

Wikia is not accessible if you've made further modifications. Remove the custom ad blocker rule(s) and the page will load as expected.